Airline Pilots Flying Vaccines Need the U.S. Government to Deliver
Stabilizing the airline industry is essential for America's recovery
12/10/20 | By Capt. Joe DePete, ALPA President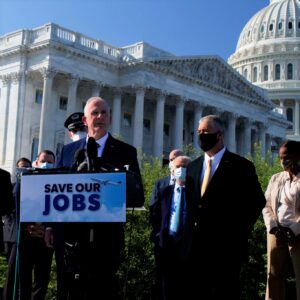 Right now, U.S. airline pilots are operating special flights to position COVID-19 vaccines so that, once government-approved, distribution can begin quickly. Yet, even as we fight alongside other Americans to slow the pandemic, airline workers and our industry face economic devastation unless U.S. government leaders provide economic relief now.
As the United States takes the next critical step in combating COVID-19, airline pilots are on the flight deck and doing our part in transporting lifesaving vaccines for use as soon as they receive government approval. The vaccine-distribution effort is extraordinarily complicated. It involves and demands collaboration between federal and state governments along with private organizations. To succeed, our nation needs every available asset to perform at peak—including our safe and efficient air transportation system.
Despite what may appear at times to be busy airports, the fact is that flights in the United States are drastically down. For U.S. airlines, passenger volumes remain more than 60 percent below the levels of a year ago. As a result, thousands of airline employees have been furloughed or lost their jobs altogether, while thousands of others have ended their careers prematurely and sacrificed in other ways.
The loss of thousands of U.S. aviation jobs not only harms workers and their families, it also risks the strength of the nation's air transportation system—and at a time when the United States may need it most. Airline pilots are highly trained, and our training and certifications must be kept current or it will take time for us to be requalified. Once lost to massive layoffs, putting a pilot workforce back onto the flight deck of our country's fleet will not be instantaneous.
It is important to remember that while aviation workers are directly responding to the public-health crisis, we are also making staying at home more manageable and helping businesses of all sizes stay afloat. We deliver everything from vegetables for the dinner table to computer monitors to keep students learning online. Pilots are indispensable to the supply chain and promote local businesses and jobs by maintaining connections with the global marketplace and supporting the availability of products ranging from disinfectant wipes to holiday gifts. The lengths to which airline pilots are going to keep the supply chain open and contribute to the global economy cannot be overstated.
The prospect of saving lives and stabilizing the economy means that our nation must not allow anything to compromise the success and speed of the distribution of government-approved vaccines. Allowing our air transportation system to be weakened by the preventable layoff or furlough of its workers is not acceptable if we are to succeed.
Without immediate intervention by U.S. government leaders, our industry and its workers are on the precipice of irrevocable economic harm. If the United States is to sustain an industry that contributes so much at this most critical time, U.S. government leaders must stabilize and preserve airline workers' jobs with an extension of the CARES Act Payroll Support Program.
From America's largest cities to its most remote communities, air transportation will be essential to our turning back the virus and getting back to a new normal. We need a strong aviation workforce today so that our country is ready for tomorrow.