The Flight Deck Doors Are Open to All Who Dream of Flying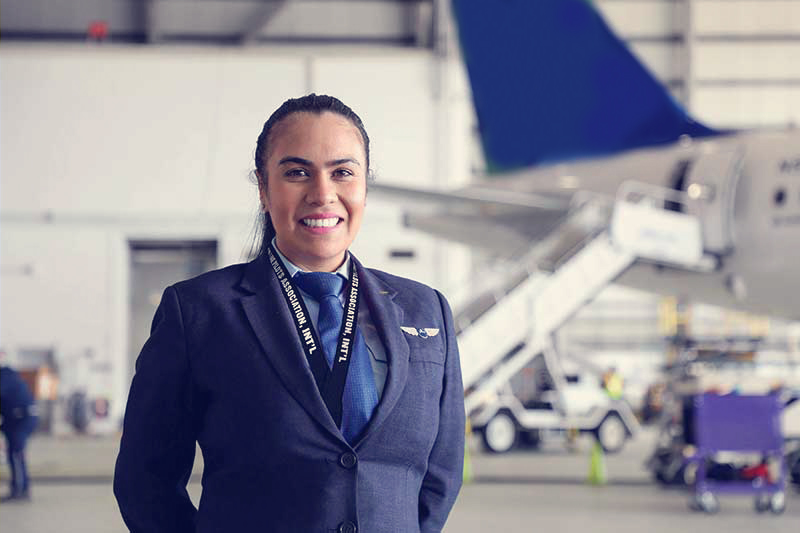 Camila Turrieta glimpsed her future the moment she boarded a plane at age 7, when her family immigrated from Chile to the United States seeking a better life. The flight attendants asked her if she wanted to visit the flight deck and say hello to the pilots. She'd never met a pilot or seen the front of an airplane before. Through the wide-open door, she looked up in awe at the overhead panel and its multitude of buttons and lights. The two pilots showed her the world of the flight deck and let her try on one of their oxygen masks.
"From that day forward, I wanted to be an airline pilot," Turrieta said. "I promised myself that I would do everything I could to achieve my dream."
In Queens, N.Y., Turrieta's elementary school was right under the approach path of Runway 13L at John F. Kennedy International Airport. At recess, she watched the planes flying overhead. At age 13, she took her first flying lesson through the aviation program at her high school.
Not everyone believed in her dream.
Turrieta recalls, "I once overheard my aviation teacher tell another teacher that because of the color of my skin and because I'm a woman, I would never be successful. So, there was no use teaching me anything about aviation."
She would soon prove them wrong.
Breaking down barriers
Now a pilot for JetBlue, First Officer Turrieta is committed to helping others overcome bigotry, financial barriers, and other obstacles to achieve their own dreams of flying. As chair of the President's Committee for Diversity & Inclusion at the Air Line Pilots Association (ALPA), she's working to ensure all airline pilots feel respected. And she's helping to make systemic changes to enable future generations of airline pilots from all walks of life and backgrounds—regardless of race, gender, religion, or sexual orientation—to feel that the piloting profession is accessible to them.
It's a goal ALPA, the world's largest airline pilot union, is serious about. In April, the Association sent a letter to the U.S. Department of Transportation outlining a plan to reduce the costs of becoming an airline pilot. By creating a more diverse and inclusive air transportation workforce, the United States can continue to stand as the unquestioned global leader in aviation safety.
"Action in several critical areas will allow the United States to break down barriers to foster a more diverse and inclusive aviation workforce that reflects the communities and customers our industry serves," said ALPA president Capt. Joe DePete. "As we work to expand and diversify our industry's highly skilled, trained, and experienced pilot workforce, ALPA is also committed to furthering the dignity of work by insisting on an inclusive workplace for aviation employees irrespective of race, gender, religion, national origin, sexual orientation, or other diversity traits."
Taking a stand
To ensure that the piloting profession is welcoming and accessible to all, particularly those who have traditionally been underrepresented in our career, ALPA is urging leaders to take a number of steps, including:
Align funding support for the education required to become an airline pilot with that of other highly skilled professions.
Make aviation education more accessible to minorities and underrepresented groups by helping institutions that serve these groups start or maintain flight-training programs.
"We can—and must—do more as a nation to open the doors of opportunity for those currently underrepresented in the piloting profession and maintain the highest safety standards in the world," said DePete. Making the profession more diverse does not have to come at the cost of safety, as some groups have falsely claimed.
The ALPA committee Turrieta leads is strengthening relationships with organizations that serve targeted groups of pilots and looking for new opportunities to connect with young people who may never have thought piloting was attainable to them as a career.
"Our union can no longer stand by as our members and aspiring pilots face inequities and systemic discrimination," she says. "Now, we're coming together, forming a singular voice, and standing up for what's right, regardless of a pilot's race, creed, color, ethnicity, religion, sexual orientation, and gender identity."