Extending Payroll Support Can Prevent Going from a Dream Job to Economic Nightmare
09/18/2020 | First Officer Karen Lacy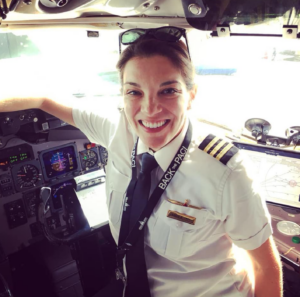 Being a pilot is a bit of "a family business" in my household. Two of my grandparents had their private pilots' licenses, as did my dad. And both my husband and I are pilots — we actually met while working — and we have three children at home, including our one-year-old daughter and two teenagers. No word yet on if any of them will be pilots, but the odds are promising. I've been fortunate to live out my dream of being a pilot, but now the job I love and the support it provides to keep my family afloat is dangerously close to coming to an end.
In July, I, along with many of my peers, learned that we will be furloughed at the end of the September unless payroll support for our industry is extended until March 31, 2021. I'm sure you can imagine how heartbreaking and devastating it was and continues to be when I received that news. Like many sectors of the economy, airlines and their employees have been hit hard by the economic downturn caused by the pandemic. Unless leaders take action, tens of thousands of airline workers will lose their jobs and thousands more will be furloughed. The effects of this furlough and the the ensuing layoffs will impact me, my peers and our families for the rest of our lives.
When I received word I would be furloughed, my mind raced to my colleagues and former classmates that are the sole providers for their families, and would be out of work and without income soon. While I have previous experience in nonflying jobs and have the résumé to pursue other lines of work, in many cases there are people in the industry who have spent their entire lives as a pilot or in airlines. If you only have experience flying airplanes, it is very hard to find other jobs, especially at a time when so many others are also looking for work.
The urgency to protect essential aviation workers is no less than it was earlier this year. In March, at the onset of the pandemic taking hold, Washington responded in our time of need and helped save hundreds of thousands of workers from layoffs. We need them to do the same now, as our industry has undergone several disruptions and changes to accommodate COVID-19 protocols and ensure the safety of customers on every flight. Passengers can feel confident knowing that airlines and airports are going above and beyond in instituting multiple layers of enhanced health and safety protection, such as requiring face coverings, using HEPA filtration systems on aircrafts and sterilizing, disinfecting and sanitizing all surfaces areas and touchpoints. Ultimately, pilots have the final say on whether an aircraft is ready for take-off, including exercising their right to delay boarding and take-off to protect the safety of their passengers.
Being forced out of a dream job on October 1st is going to hurt and I'm going to miss seeing the world from 30,000 feet, but facing the economic uncertainty that follows will be even harder for myself and thousands of my colleagues unless our leaders take action. That's why returning to the negotiating table to find an agreement that extends payroll support and protects aviation workers is so crucial.